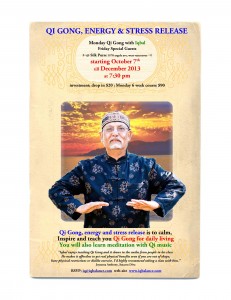 .
.
Qi Gong & Qi Meditation Courses every Monday starting a 7.30 PM at the Silk Purse in West Vancouver,BC
Iqbal will teach you how to integrate a 5000 year old proven system into your daily life especially when you are stressed or lacking in energy
Click image for larger version.
.
.


.
.
.
  If you can not sleep or relax after a stressful day, then contact me to request a date and time for a stress release session with a personal one on one talk plus with calming theda music ; 
http://iqbalance.com/calendar/
.
.
.
Music of Qi -

for Healing
Iqbal creates music to help people relax and reduce the stress in their lives. Join him on a journey of sound into the harmonious world of balancing rhythms, with healing music that penetrates the conscious and the subconscious to relax and uplift your soul.
"I listen to Iqbal's music over and over. Its beauty is deeply healing." Sherry
"Iqbal's music allows me to center myself with grace. His voice is soothing. I pace my breathing and the overtones result in extraordinary creativity for me!" Joyanna Anthony
For Stress Release, Music & Meditation Journeys Down-loads; Click now at,
http://iqbalance.com/on-line-store/
Movements of Qi –

for Stress Release
"Qi" means breath or vital energy of the body, and "Gong" means the skill of cultivating self-discipline.The practice of Qi Gong consists of physical movement combined with relaxation, mind-body integration, and breathing exercises.
Health Benefits of Qi Gong : Good health is a result of a free flowing, well- balanced energy system. Regular practice of Qi Gong helps to cleanse the body of toxins, restore energy an reduce stress and anxiety.
"When I first entered the room, I was a ball of stress from a long day at work but by the end of the session I was much calmer and more centered." Lia
http://youtu.be/1tj1xPYgyis   Stress Release Course Feedback
Media of  iQ -  Digital Audio Visual Storytelling

An accomplished  videographer and radio host, Iqbal expertly translates images and sound into messages which tap into our emotions and stay with us forever.
"Iqbal's creations of music evoke images of the serene exotic that transports one to a place unknown." Karima Es Sabar
http://www.blogtalkradio.com/iqbal
http://www.youtube.com/iqbalishani